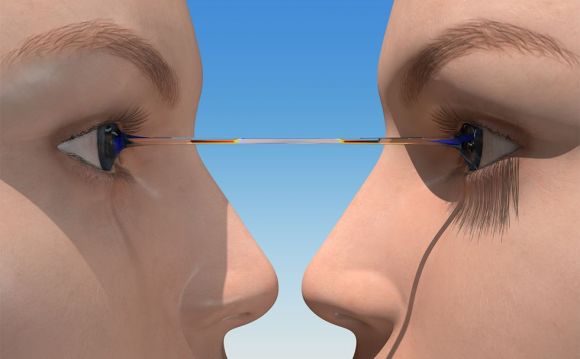 London, 24.11.2016 - 23.04.2017
'Fear and Love: Reactions to a complex world' is an exhibition of the new Design Museum in London. It consists of a series of eleven major new commissions by some of the most innovative practitioners in design and architecture. Each commission is intended to be a powerful statement about the potential of design today. The practitioners include the Spanish –with the support of AC/E– Andrés Jaque and Ana López.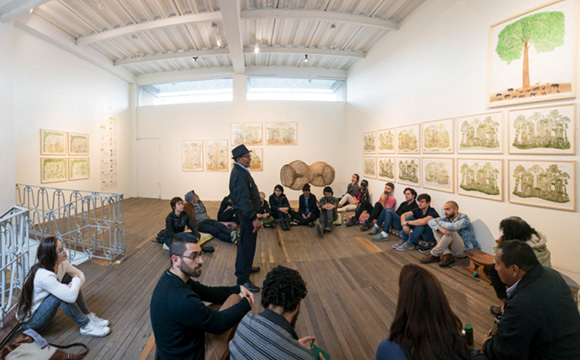 Convocatoria, 28.11.2016 - 10.12.2016
Residencia en la Escuela FLORA 2017 de un artista de nacionalidad española y con residencia fiscal en España de hasta 40 años al cierre de la convocatoria (10 de diciembre 2016) para desarrollar un programa formativo de 10 meses. Plazo de presentación de solicitudes: hasta el 10 de diciembre de 2016 a las 23:00 (hora colombiana).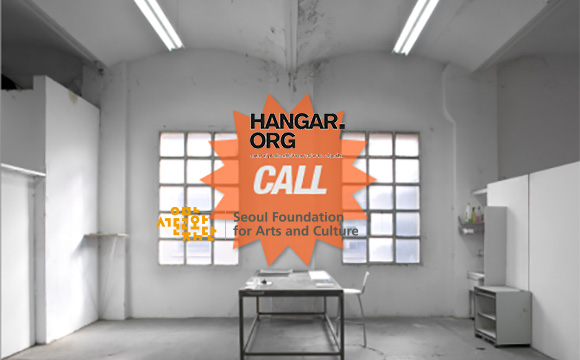 Convocatoria, 28.11.2016 - 31.12.2016
Hangar, the Seoul Foundation for Arts & Culture and Acción Cultural Española are running this exchange programme between Spain and Korea. It enables a Spanish artist (or non-Spanish artist living in the country) to enjoy a three-month residency at the Seoul Arts Space Geumcheon (Seoul) and a Korean artist to travel to Spain for a residency, also lasting three months, at Hangar (Barcelona) during 2017. The admission deadline is 31 December 2016.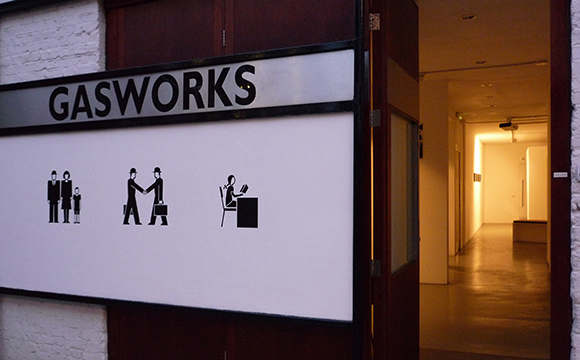 Convocatoria, 29.11.2016 - 18.01.2017
AC/E y Gasworks organize this residency for an aspiring artist based in the Spain to undertake a fully-funded residency at Gasworks in London from 3 April – 26 June 2017 (11 weeks). Gasworks' residencies are opportunities for self-led professional development, artistic exchange and experimentation. The artist should be able to engage discursively and speculatively with Gasworks' environment and London's wider artistic and cultural context. Application deadline: 18 January 2017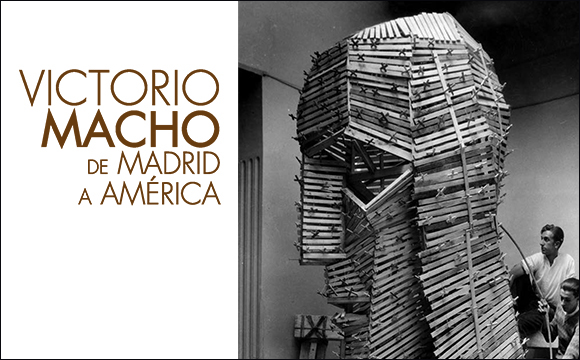 Madrid, 29.11.2016 - 29.01.2017
The exhibition surveys the life and Spanish and Spanish-American work of the sculptor Victorio Macho, a forerunner of contemporary sculpture. It provides a biographical outline of the artist and an introduction to his work; the work he produced in Madrid, especially his monuments for the Retiro park; and the pieces designed and executed in Peru, Puerto Rico, Panama, Colombia and Venezuela.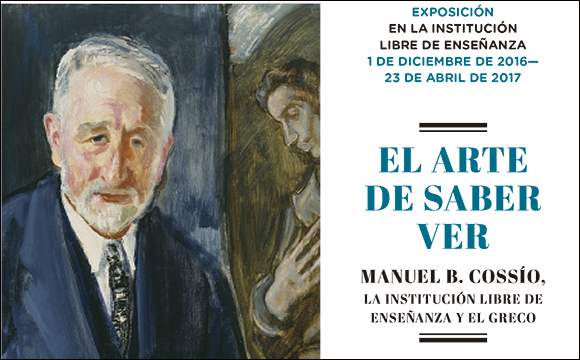 Madrid, 29.11.2016 - 23.04.2017
Manuel Bartolomé Cossío (1857–1935) was a Spanish Krausist educator and art historian. This exhibition is designed as a continuation of the one devoted to the centenary of the death of Francisco Giner de los Ríos, which ran from December 2015 to May 2016 and enjoyed great success with general public and critics alike. The layout explores other aspects of the ILE's modernising project, providing further information on the areas examined and the main people involved.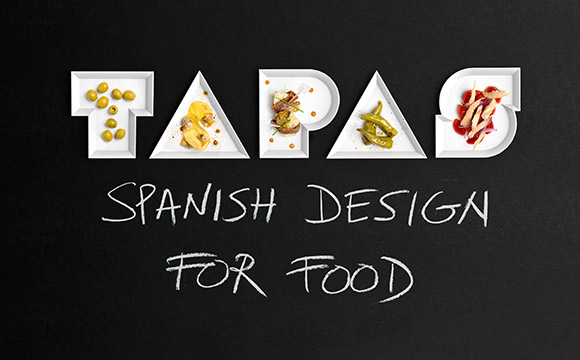 Valencia, 20.10.2016 - 20.01.2017
The exhibition, organized and produced by Acción Cultural Española (AC/E), shows through two hundred objects divided into four sections—Kitchen, Table, Food, and Wine—how design finds solutions to the problems posed over the years by the world of cuisine. And particularly how Spanish culture has come up with ingenious inventions and solutions throughout history.
>Virtual Tour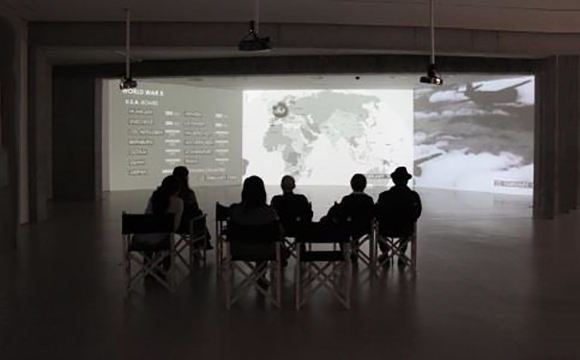 Linz, 02.12.2016 - 26.02.2017
Lucas sets out to uncover what's really behind power structures: global issues, for example how our economy operates, how it carne about in the first place, and how it has changed until today, are the subjects of her exacting analysis and the associated research. And when she does research, it's always on a global scale, delving deep into history and its epochal chapters.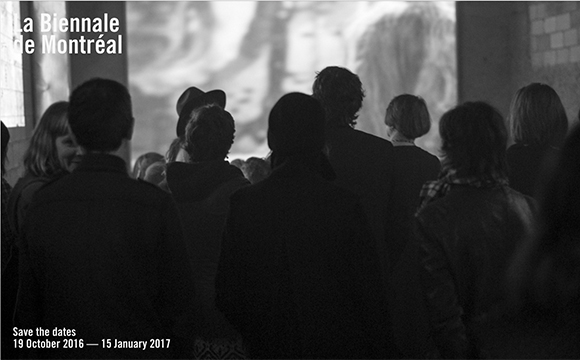 Montreal, 19.10.2016 - 15.01.2017
AC/E collaborates with the Professionals Welcome Program of the Biennale, supporting the participation of the key Spanish arts professional Eva Gonzalez-Sancho to visit Montréal during the Opening Days of La Biennale in order to define collaboration frameworks and modalities of exchange. The aim of this project is to develop an agreement for projects to be presented in 2017 and 2018 featuring the work and ideas of Spanish and Canadian artists.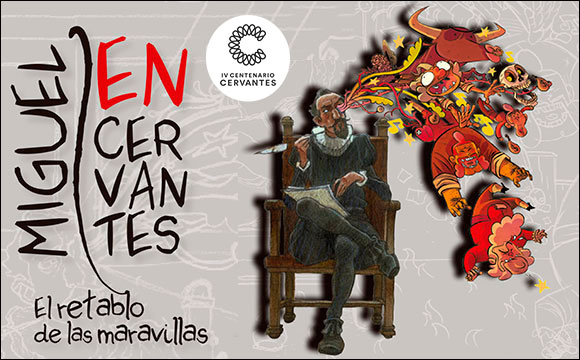 Madrid, 04.10.2016 - 08.01.2017
Miguel En Cevantes is a project designed and based around El Retablo de las Maravillas, one of the eight entremeses (interludes) written by Miguel de Cervantes and published in Ocho comedias y ocho entremeses (1615), which were never performed.
>See Virtual Tour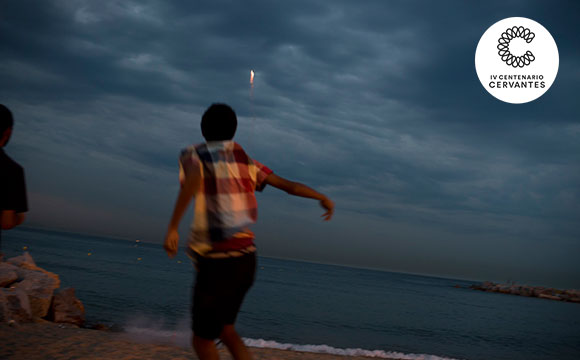 Granada, 26.10.2016 - 08.01.2017
For this project, Navia followed in Cervantes' footsteps, visually capturing the places and paths trodden by the great author throughout his life – a troubled and uncertain life that is also revealed to us in a veiled manner in his works. The photographs are accompanied by detailed texts and literary quotes
>Read eBook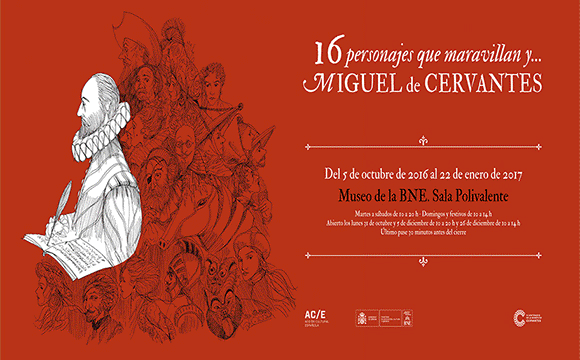 Mexico City, 17.11.2016 - 05.02.2017
This exhibition paints with words and literary creations a historical portrait of Cervantes, guided by the literary characters who populate and give life to his works. From Galatea to Persiles y Sigismunda.
>See gallery of characters
>See video "Cervantes. Literature made Life" (in the exhibition)