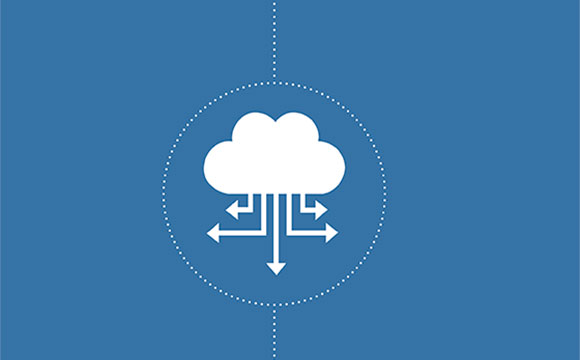 Acción Cultural Española (AC/E) is a public institution that fosters and promotes culture through a wide-ranging programme of activities and initiatives designed to encourage the mobility of professionals and creators. We bring this same spirit to the
AC/E digital culture annual report,
a publication that sets out to promote
digital internet culture.
Our aim is for it to help sector professionals and creators understand how to incorporate digital technologies into their work. If the culture sector gains the skills and capabilities to work actively on the internet and furnish it with cultural content, between all of us we will succeed in giving culture a prominent presence in this great virtual public space.
The
AC/E Annual Report
is an annual document of reference that analyses the development of
digital trends
in the world of
culture
and focuses on a specific sector or discipline each year.
The annual report is structured into two main parts. In the first professionals and specialists from the digital sector carry out a cross-cutting
analysis of digital trends
in the world of culture, addressing all the cultural disciplines. The second part identifies and defines
cases of good practice
in the use of digital technology, both national and international, in a specific cultural sector—the
performing arts
in 2014,
museums
in 2015,
cultural festivals and professional meetings
in 2016 and
cultural heritage in 2017.
The annual reports are published on the website of Acción Cultural Española, in the section on
digital publications
, and can be downloaded free of charge by users under a Creative Commons licence.
You can submit it or request further information about this project from
raquel.mesa@accioncultural.es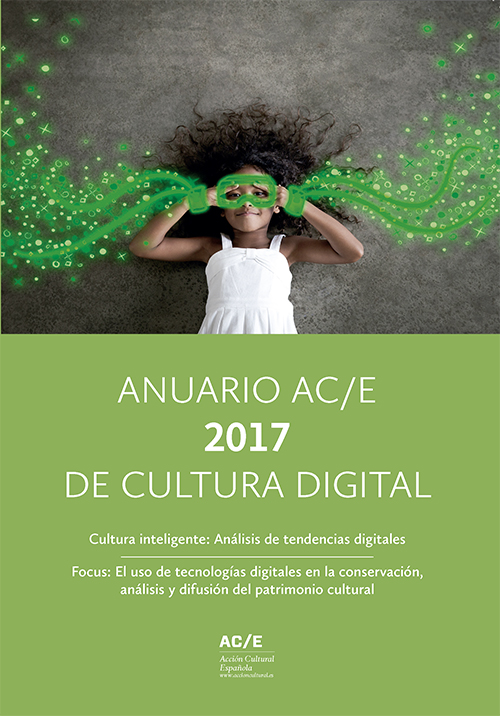 AC/E Digital Culture Annual Report 2017
#AnuarioACE
Following the same structure as previous years, the 2017 annual report is divided into two separate but complementary parts:
First part / Innovation and future. New digital technologies for the culture sector. An update on digital trends in the world of culture or trends in the digital world that are applicable to culture, through several monographic articles by prominent experts.

Focus / Study on good practice: case studies of good practice in the use of digital technologies for the conservation, analysis and dissemination of cultural heritage. The use of digital technology to conserve, analyse and disseminate cultural heritage is growing fast, leading to radical changes in methodologies and formats. Augmented reality to reconstruct archaeological sites, virtual reality to provide immersive experiences in historical contexts, the use of 3D printing to duplicate and preserve works of the past, drones, GPR and satellite imaging for archaeological prospecting, and 3D imaging to recreate contexts and disseminate historic heritage are some of the fields the study examineS in order to familiarise sector professionals with the most innovative experiments and where they are being carried out.
>GO TO ACTIVITY
> GO TO EBOOK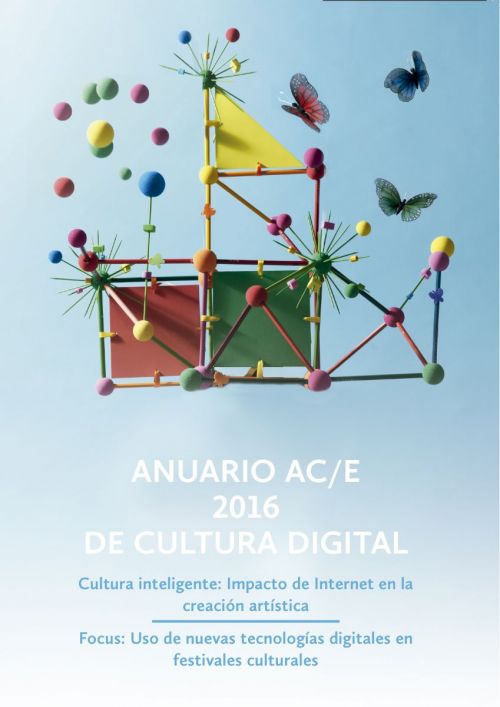 AC/E DIgital Annual Report 2016.
#AnuarioACE
The 2016 AC/E Annual Report examines how new technologies are transforming cultural creation: What new languages are available to creators for telling a story? What role do new technological platforms play in creating a story? What is the process of producing a work in the twenty-first century? What impact does open content have on the ownership of a work? What role does the culture industry play in all this new creation process? How is a transmedia work marketed? How can the economic effort be made profitable? How is a work of these characteristics disseminated?
To make it easier to consult, this year's focus section identifies and systemises the use of new technologies in organising and promoting culture festivals (film festivals, music festivals, book fairs, art fairs and theatre festivals, etc.). The AC/E Annual Report aims to describe the technological formulas the organisers of these events are adopting to enrich participants' experience.

> GO TO ACTIVITY
> GO TO E-BOOK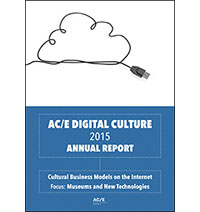 AC/E Digital Culture Annual Report 2015 #AnuarioACE
The first part features twelve articles by specialists who carry out cross-cutting analyses of the challenges, trends, business models and key aspects to be considered (legal, social, economic, etc.) in order to foster a culture of payment of cultural content on the Internet. The authors include Rodolfo Carpintier, Pepe Cerezo, Joana Sánchez, Marta Rodríguez, Hugh Forrest (SXSW), Matthew Caines (The Guardian Professional Cultural Network) and Juan Mateos García (NESTA).

The second part of the Focus consists of an exhaustive study of the museum sector through cases of good practice in the use of the latest digital trends. The study includes both success stories identified by us through a detailed analysis of the sector within and outside Spain, as well as the most significant among those submitted in response to the invitation published on our website between November and December 2014.

> GO TO ACTIVITY
> GO TO E-BOOK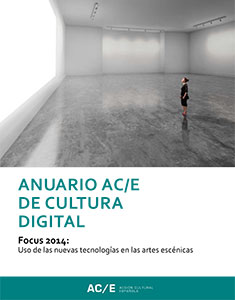 AC/E Digital Culture Annual Report 2014
The report fe
atures nine opinion pieces that analyse the main technological trends from a highly cross-cutting approach that can be applied to any type of cultural institution. The cross-cutting technological trends analysed this year range from the impact of the new concepts of 'gamification', 'transmedia storytelling' and 'crowdfunding' in the cultural sector to highly topical issues such as cloud culture, how to sell culture over the internet and the role of the s
ocial networks in promoting culture, among others.
In it we analysed the impact of the Internet and the incorporation of new technologies in many areas of the
performing arts
(production, promotion, staging, distribution, etc.).
> GO TO ACTIVITY
>GO TO E-BOOK