Laura Alcala Freudenthal Residency at Creative Networks PST 2017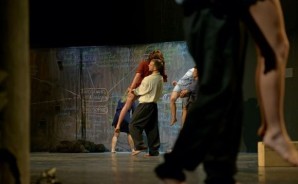 Participants with the support of AC/E (creators)
Organised by
With the collaboration of
Creative Networks is a programme of Dance and Coreography organized in collaboration between foreign and local dance artists. The project consists of a month residency when the performance is created and then presented in the frame of festival Biela Noc. This event aims to develope a dance scenery in Košice by international collaborations and creating new publics for contemporary dance.
For this edition, PST - Priestor Súčasného Tanca has invited the emerging spanish dancer and choreographer Laura Alcala Freudenthal. She will work with 6 dancers from and around Košice. The project aims is to create a quality site-specific performances that will playfully interact with the audience.
Creative Networks is a project organised by PST - civic association that cares about development of contemporary dance in Košice, Slovakia. The project resulted from the residence is performed in the frame of festival
Biela Noc.
Laura Alcalà Freudenthal is an independent dance artist from Spain. Her main interest is to develop a site-specific performance, created for a main trin station in Košice, where the audience will be led by different spaces that are interconnected. In this performance, Laura will work with some of the practices she has discovered in her own research "Bailabilidad y la posibilidad de ser", which will allow to play with the contents of train station and develop it into the interpretation of each dancer. The aim will be playful situations that will create spaces in main train station in Košice. Another interest of Laura is to create a tension between reality and fiction that is related to content, interpretations, historical documents, and archives that help the dramaturgy of performance. Therefore, there will be different media and forms to create these universes which audience can inhabit. The rehearsal period: September
Workshop schedule:
Friday, 8th of September 17:00 - 20:00
17:00-18:30 warm up / dance training
18:30-20:00 creative work
Saturday, 9th of September 14:00 - 19:00
14:00-15:30 warm-up / dance training
15:30-15:45 short break
15:45-17:15 creative work with Ziggurat Project
17:15-17:30 short break
17:30-19:00 creative work with Laura
Sunday, 10th of September 12:00-17:00
12:00 - 13:30 warm up, contemporary dance training
13:30 - 13:45 short break
13:45 - 15:15 creative work with Ziggurat Project
15:15-15:30 short break
15:30-17:00 creative work with Laura
Comments (0)