Promoting the international presence of Spanish creators, professionals and artists is one of the strategic courses of action of Acción Cultural Española AC/E. This support for the Spanish cultural sector, both in the different fields of culture and in the new modes of production and distribution of the creative industries, is implemented through the Programme for the Internationalisation of Spanish Culture (PICE) with the aim of enhancing its presence abroad, with AC/E acting as facilitator.

The programme gives priority to the proposals that are least consolidated in the creative sector, most in need of boosting their presence abroad, and characterised by reflecting most closely the contemporaneity, creativity and plurality of Spanish culture today.

The PICE is structured into two lines of support:

• Grants for visitors belonging to benchmark foreign cultural organisations and institutions, both public and private. These visits allow international agents, influencers and planners from different areas of culture and art to gain first-hand knowledge, in Spain, of what the country has to offer in their sector, in order to be able to incorporate it into their projects, activities or programmes. Candidates can be proposed by Spanish public institutions belonging to the field of culture in the two periods established each year (months January and May)

• Mobility grants that allow these foreign cultural organisations and institutions to include Spanish artists, professionals or creators in their projects, activities and programmes by receiving an economic incentive for this purpose. Candidates can be proposed by Foreign institutions belonging to the field of culture in the two periods established each year (months March and September).

Both types of award are granted under a system of joint financing with the beneficiary organisations and are designed to be complementary and coordinated.
Participants and those interested in AC/E's Programme for the Internationalization of Spanish Culture have at their disposal the Linkedin group PICE COMMUNITY /
COMUNIDAD PICE
. You will received industry news, relevant information on the programme and its open calls, as well as other scholarships and grants for creatives and professionals working in the field of culture. Participants may open debates on matters of interest to them and the other members in the group.
To enter you must follow AC/E's page in this social network: https://www.linkedin.com/company/accion-cultural-espa-ola. Then, from your Linkedin account, search to find COMMUNITY PICE and ask to become part of it.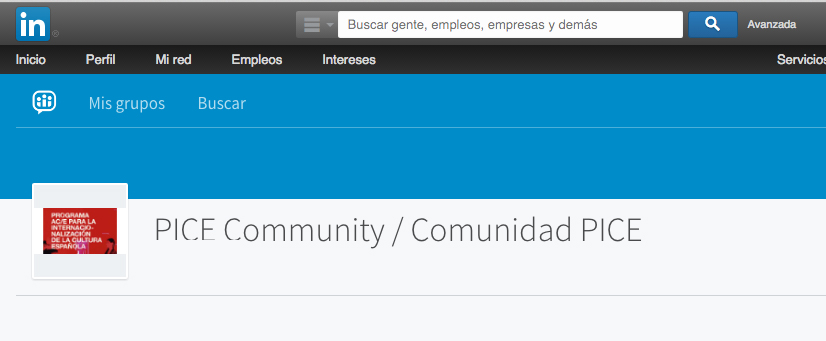 Contact and information:
Performing arts:
artesescenicas@accioncultural.es
Visual arts:
artesvisuales@accioncultural.es
Film:
cine@accioncultural.es
Literature and book:
literatura@accioncultural.es
Music: musica@accioncultural.es

An external committee of prestigious independent advisors, which changes annually, awards the grants after evaluating all the applications submitted.
Advisory Committee of the Programme 2016:
Film
Minerva Campos
Carlos Reviriego
Music
Montse Faura
Adriana Pedret
Performing arts
Eduardo Bonito
Miriam Gópez
Visual arts
Peio Aguirre
Nuria Enguita
Literature and books
Inés Martín Rodrigo
Javier Rodríguez Marcos

For the implementation of this Programme, AC/E enjoys the collaboration of the following Spanish public institutions and bodies with responsabilities in the area of culture and foreigb cultural network