Spain Pavilion at Expo Astana 2017
10 JUN 2017 - 10 SEP 2017
On 22 November the Bureau International des Expositions (BIE) designated Astana Kazakhstan as the city that will host the International Exhibition from 10 June to 10 September 2017.
The central theme of Astana Expo 2017, Energy for the future, is designed to reassess our attitude to energy and its consumption. The idea is to provide a platform for global dialogue on strategic priorities in the use of modern energy sources and to seek, in a coordinated manner, a response to the challenges of our day. The main goal is to promote a new energy model for the future, which involves the progressive development of our planet resulting in the wellbeing of future generations.
Spanish Pavilion: "Energy for the Planet"
The Pavilion of Spain is located in Cluster C1 at the North of the Exhibition grounds together with that of Germany, Monaco and Holland and has an area of 868 m2 distributed in a single plant. With the motto "Energy for the Planet", the pavilion invites its visitors to travel through space and time to discover how and why Spain has become the undisputed leader in the use of renewable energy, in its implementation and research.
The company ACCIONA Producciones y Diseño (APD) together with Frade Arquitectos are responsible for the design and production of the pavilion. They were the winner of the open competition organized by AC/E and granted by a committee of experts on January 31, 2017.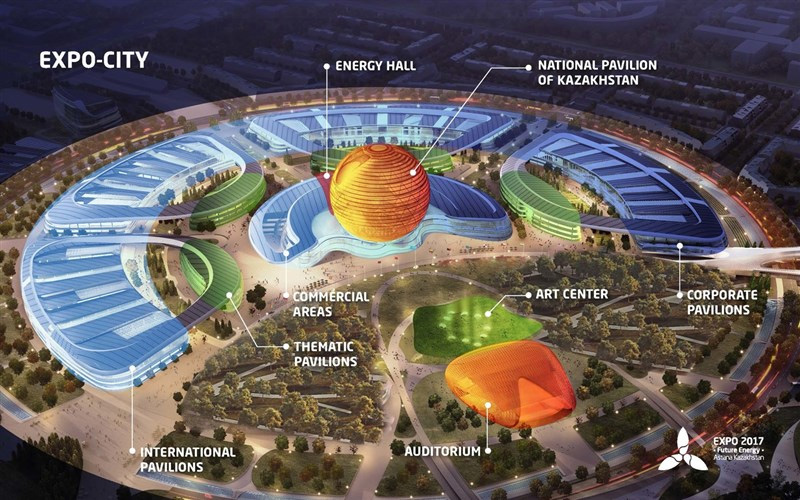 The showground spans 25 hectares inside a larger 140-hectare area equipped with the necessary support buildings and infrastructure. The Expo will feature 14 international pavilions, 2 company pavilions, 2 thematic pavilions, the "best practice area" pavilion, 3 commercial pavilions, the pavilion of Kazakhstan, an auditorium, an art centre and an energy pavilion. This Expo promotes the idea that everyone is responsible and individually part of the development and implementation of a sustainability plan for the production, distribution and use of energy.