Ángel Calvo Ulloa at the Residencia Paulo Reis de Ateliê Fidalga 2017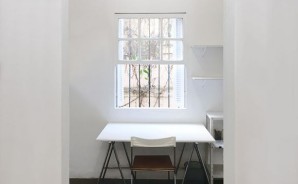 Participants with the support of AC/E (creators)
Organised by
With the collaboration of
The Residência Paulo Reis de Ateliê Fidalga seeks to forge ties between Spain, Portugal and Brazil, in the say way that the curator Paulo Reis (1960‒2011) did during his career. These links are established through knowledge of the local art scene, public presentations of the Spanish context, in this case given by the guest curator, and the forging of two-way long-distance relationships between artists, curators and other agents of these countries.

What was formerly the studio of artists Sandra Cinto and Albano Afonso in the city of São Paulo for eighteen years was later converted by them into Projeto Fidalga. Fidalga is a space for artistic creation and dialogue between cultural agents. Today Projeto Fidalga is a permanent meeting place for artists, critics, curators and other culture professionals, who have joined forces to establish a platform for cultural exchange which seeks to create conditions for learning, research, dialogue, peer-to-peer discussion, critical thought and collaboration between artists and cultural agents from different contexts and disciplines.

AC/E is supporting the residency of the Spanish critic and curator Ángel Calvo Ullo, who was invited by Ateliê Fidalga to take part in this process. Ángel Calvo Ulloa contributes to media such as Dardo Magazine – which has focused particularly on the Spanish, Portuguese and Brazilian scenes since its founding – and is in permanent contact with artists of each of those three countries through dialogue and the implementation of curatorial projects, thereby fostering a natural coexistence.

The residency involves visiting different studios and institutions of the city of São Paulo, a public talk on the need to combine contexts and a presentation of the work of different Spanish artists with whom this curator has worked on his latest projects. In addition, as the final residency project, an exhibition will show the work of these Spanish artists in dialogue with other proposals from the city of São Paulo.
Comments (0)