Alma Afrobeat Ensemble American Summer Tour 2017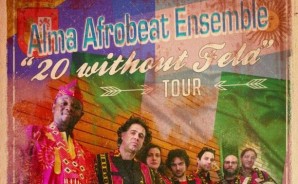 Participants with the support of AC/E (creators)
Organised by
With the collaboration of
Alma Afrobeat Ensemble is a band based in Barcelona. Its nine members features world-class musicians from four different continents and seven different countries. This Summer AC/E supports their tour
of high-energy original Afrobeat to theaters and festivals across the USA.
The ensemble has been together for almost 10 years, no small feat for a large band. They have released 3 albums (with a fourth on the way), plus multiple singles and an album of remixes.
After the success of AAbE's 2016 Midwestern USA tour (Chicago, Milwaukee, Minneapolis, Cleveland, Champaign), they will bring back to the cities they visited last time, as well as open up new markets appropriate for Afrobeat and Latin music.
Alma Afrobeat Ensemble was founded in Chicago in 2003 by guitarist Aaron Feder. In 2006 Aaron moved to Barcelona in search of a different sound for the AAbE. He quickly found a group of international members, from all continents of the globe. In a short time the band was reformed and headlined the Fiestizaje music and arts festival in 2008. The band then set about recording their first studio album, Toubab Soul which was released in 2010. Shortly afterwards, they released the remix album, Toubab Resouled, and opened the world music festival Cruilla de Cultures with Konono No 1.
Programa
Midwest
June 22
nd
210 Restaurant
, Highwood, IL (tour presentation show)
June 23
rd
Wilbert's Food and Music
, Cleveland, OH
June 24
th
Founder's Brewery
, Grand Rapids, MI
June 25
th
Summerdance Festival
, Grant Park, Chicago, IL
June 27
th
Skellington Manor
, Davenport, IA
June 28
th
The Wild Hare
, Chicago, IL
June 29
th
Jazz in the Park Festival
, Milwaukee, WI
June 30
th
The Cedar Cultural Center
, Minneapolis, MN
Comments (0)