Babel Sound Interactive World Music Festival 2017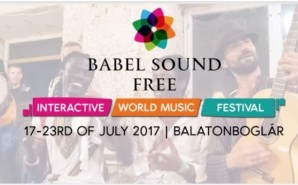 Participants with the support of AC/E (creators)
Organised by
With the collaboration of
Babel Sound is an international music event that aims to be an interactive meeting point for various cultures and branches of the arts. Unlike at traditional music festivals, performers stay longer than the single day of their concert. Babel Sound is a big family gathering for creative people – a place where newcomers are praised as well as accomplished masters. The artists are genuine representatives of their countries with the mission to present and transmit their cultural heritage and deepen mutual respect.

Babel Sound Interactive World Music Festival, with a colourful mix of lesser known international bands, took place from 19 to 24 July in seven venues in Balatonboglár. Participants included artists from Spain, Greece, the Netherlands, Serbia, the Czech Republic, Bulgaria and other countries, all of whom represented their culture, drew inspiration, enjoyed the local cuisine and made friends and professional contacts.

AC/E supported the participation of Spanish groups Doctor Prats, Ogun Afrobeat, Maria Keck & De Cobre, Ethnómada, Coetus, Rumbamazigha, Tony Xucla & Gemma Humet.



Comments (0)