Dublin Dance Festival 2017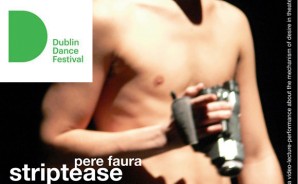 Participants with the support of AC/E (creators)
Organised by
With the collaboration of
Dublin Dance Festival is the leading International dance event in Ireland and it's held since 2002. Annually in May, the Festival brings together International and Irish dance artists and choreographers to present contemporary dance to Irish audiences of all ages and backgrounds, and to create opportunities for dance artists, through programming, commissioning and partnerships.
In 2017, the Festival 13th edition, it brings a vibrant, provocative, inclusive and diverse programme of works of artistic excellence from influential choreographers and performers from Ireland and around the world. Highlights include a new piece by former Riverdance star, Colin Dunne; the Irish debut of Compañía Nacional de Danza of Spain at the Bord Gáis Energy Theatre; 2 major international works at the Abbey Theatre, a participative nation-wide project based on Pina Bausch's Nelken-line and many more.
The Festival presents several Spanish works. The first one is "Carmen" by Compañía Nacional de Danza of Spain on 23.05 in the prestigious Bord Gais Energy Theatre auditorium seating up to 2100 people. And
Pere Faura, with AC/E's support, in the Project Arts Centre on Sat 27 & Sun 28 May at 9 pm, with his solo show 'Striptease'. Pere Faura would also lead a closing night party event on Meeting House Square.
"Carmen" is a very Spanish story in the hands of a Swedish artist. Johan Inger's adaptation of CARMEN allows the audience to observe the work through the eyes of an innocent child, feeling the full force of its scenes of violent conflict. The performance is hot-blooded, mysterious and a merciless critique of sexual violence. In contrast to previous interpretations, Inger rejects the aesthetic of flamenco and uses a contemporary language of dance to reveal the drama of jealousy. The location is not necessarily Seville and the bullfighter is less a toreador than a film or rock star. The production for fourty-four features music by Rodion Shchedrin and Georges Bizet, with additional original music contributed by Marc Alvarez, as well as costumes by David Delfín, scenery by Curt Allen Wilmer, dramaturgy by Gregor Acuña-Pohl and lighting by Tom Visser.
"Striptease" is a solo show which, with humor and irony plays with the conventions of dance performances and the art of undressing. Striptease talks about our expectations, about how desire works in both forms and about the seductive relationship between performer and spectator.
At the Festival's Closing Party Pere Faura will perform as a DJ/VJ showing on Meeting House Square with audience capacity of 650.
He'll shows/play extracts of dance works, musicals and video-clips offering a broad and rich perspective on the art of choreography in the history of cinema. A range of genres, styles and forms are represented: classical ballet, Indian, African, flamenco, contemporary, folk dances, hip hop, tango, jazz.
Pere Faura is a selected Aerowaves artist. Aerowaves is a European networks of organisations, through which emerging European choreographers can apply to be selected and have their works disseminated.
Comments (0)