FICIB 2017, VIII International Song Festival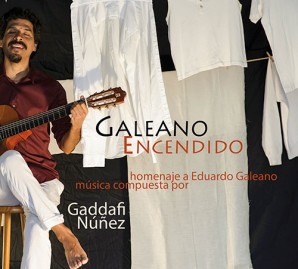 Participants with the support of AC/E (creators)
Organised by
With the collaboration of
FICIB is a point of reference for singers of Latin America. The international guests, both acclaimed and up-and-coming singers, who have taken part in all the editions make up an impressive sound map of the continent, with an emphasis on twenty-first-century songs. FICIB is committed to young artists and contemporary South American pop rooted in both rock and folklore.
The 2017 edition features, with AC/E's support, singer-songwriter
Gaddafi Núñez who will be presenting his new album and musical show 'Galeano Encendido', a musical homage to Eduardo Galeano, the great Uruguayan narrator.
With inspired melodies and close rhythms, Gaddafi Núñez works with the words of Eduardo Galeano, who now resonate in a musical show with a special visual proposal. An enveloping scenery that evokes the meeting place between the singer and the Uruguayan writer. An ideal lighting for singing, projections to accompany the lyrics, a script full of rhythm and with theatrical elements, and a sound designed with a very rich instrumentation.
Comments (0)