Hidden Edinburgh 2017: Carme Nogueira. 'Edinburgh Squares'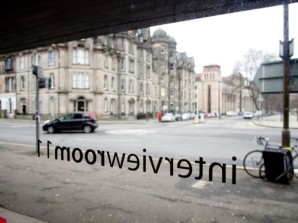 Participants with the support of AC/E (creators)
Organised by
With the collaboration of
Interview Room 11 celebrates its 5th edition of the Hidden Edinburgh event in 2017, which once again highlights the work of Spanish artists in the Scottish capital. In the project, each one engages in a dialogue with Edinburgh, but not with the Edinburgh we know from the postcards, but the one that hides far from the castle. For several months, each artist will explore and analyze a specific aspect of the Scottish capital to create an exhibition related to their artistic practice.

AC/E supports the participation of the artist Carme Nogueira who will organize her work around come of the most active spaces in Edinburgh: the City's squares. Focusing the neighborhood of Leith, near the gallery, the Galician artist will study the urban environment and, according to her usual artistic practice, will introduce small elements that modify the environment, thus generating a change in the behavior of the neighbouring squares, provoking new interactions and relations between them.

Carme Nogueira introduces new elements in public places with the intention of provoking a reaction in the spectator. The artist studies the past and the present of the locations in which she works and adds elements that help enhance their use. In this way, the relations between the neighbouring locations are intensified and spaces in disuse are rehabilitated. The starting point for Carme will be the squares in Leith, very close to the Interview Room 11 gallery. Form many years, this neighborhood, known for providing the backdrop to the famous film "Trainspotting", suffered major poblems with drug addiction and poverty, and although in recent times it has been regenerated, these problems still exist in certain areas. Kirkgate Square, for example, is surrounded by shops and is a passing area for all neighbors. Still, it is rare to see people sitting on benches, or children playing. Carme Nogueira will introduce elements to help create new relationships between the users of this square.

In addition to creating ephemeral elements for Edinburgh squares, Carme will post pictures in them squares showing the result of her work. She will also create a guide to the squares, adding value to spaces that are normally only seen as passing zones.

The result of this project, the documentation and the objectives achieved will be shown in the gallery between June 9 and 30, 2017 in a wide-ranging exhibition.
Comments (0)