Itziar Okariz at Kunsthaus Baselland 2017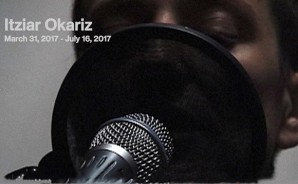 Participants with the support of AC/E (creators)
Organised by
With the collaboration of
First solo show of the outstanding Spanish artist in Switzerland within the period of the ART BASEL FAIR which garantees a broad perception of the show. The show will be as well the first overview of her work and will contain drawings, films/videos, sound pieces and performances.
Artist's Talk
Itziar Okariz talks with the artist Lara Almarcegui. Friday, 16 June, 10am-11am, Kunsthaus Baselland

Itziar Okariz performes at Art Parcours Night on Saturday, 17 June, 6pm – 11pm, Kreuzgang Maria-Magdalena-Kapelle.
(Art Parcours Night in cooperation with Kunsthaus Baselland)
Itziar Okariz (b. 1965, ES, lives in Bilbao) has long been among the most important international performance artists who engage with themes of gender and language particularly, and who in so doing investigate the meaning of word and text in relation to their own bodies. Her works have achieved broad recognition after live performances at the Guggenheim Museum Bilbao and the Museo Nacional Centro de Arte Reina Sofía in Madrid, amongst others, as well as in the streets of New York, a metropolis where she spent many years. The solo exhibition at the Kunsthaus Baselland – which is the first showing of her work in Switzerland and the first ever survey of her work – will give special insight into Itziar Okariz' multifaceted creation, including live performances and larger sound works. The exhibition will subsequently travel to CA2M. Centro de Arte Dos de Mayo in Madrid and the Tabakalera. Centro Internacional de Cultura Contemporánea in San Sebastián. A comprehensive catalogue of Okariz' work will be produced in collaboration in 2018.
Comments (0)