Selvámonos Festival 2017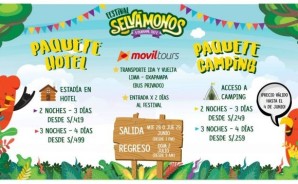 Participants with the support of AC/E (creators)
Organised by
With the collaboration of
The Selvámonos association was created in 2009 with the initial purpose of holding a music and arts festival in Oxapampa, with the strong commitment to decentralize the national cultural offer, provide new scenarios for the arts and raise public awareness about environmental care at Through the experience of the festival. Currently, Selvámonos is the most important music and arts festival in Peru that has gathered more than 50,000 people in its 8 editions.
Among the foreign musicians taking part in this year's festival is the
Catalan band Macaco,
whose participation enjoys the support of AC/E through the PICE mobility programme
. They will offer a concert along with 20 other national bands and 5 international bands, in the city of Oxapampa, in Yanachaga-Chemillen Park, right at the central jungle of Peru. In addition to the concert, members of the band will share their experience and their music through workshops and seminars.
Macaco is a musical band from Barcelona, Catalonia formed in 1997 by Dani Carbonell, who was also one of the original lead singers of the new flamenco group Ojos de Brujo. Carbonell left Ojos de Brujo after the debut album, Vengue in 2001, but has continued to make guest appearances on the group's later albums. Prior to his singing career, Carbonell had dubbed over Sean Astin's character Mikey Walsh in the 1985 film Goonies. The members, from different countries such as Brazil, Cameroon, Sweden, Venezuela and Spain, give to its music a mixed color, with electro accents of Latin music and rumba. Carbonell sings in Spanish and Catalan, but also in Portuguese, French, English and Italian. Many of their songs are played in the EA Sports video games FIFA : "Moving" (from his fifth album, Puerto Presente, released in 2009) appeared in FIFA 09, "Hacen Falta Dos" (released in an EP version of Puerto Presente) appeared in FIFA 10 and "Una Sola Voz" (from his latest album, 2012's El Murmullo del Fuego) appeared in FIFA 12.
Comments (0)