Uijeongbu Music Theatre Festival 2017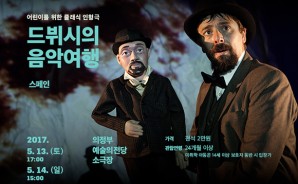 Participants with the support of AC/E (creators)
Organised by
With the collaboration of
The Uijeongbu Music Theatre Festival is held every May with a new concept 'Music Theatre' has boasted it originality in the world. Since 2002, the festival has been introducing from new works of preeminent artists to experimental works of emerging performing group.
UMTF establishes its own identity as a music theatre festival. Music theatre has become a noticeable unique performing arts genre in a contemporary era.

The 16th Uijeongbu Music Theatre Festival will be opened in May 2017 with the theme "Fantasy & Dream".
By going further than introducing and discovering various domestic and foreign music theatres with "Fantasy & Dream", the Uijeonbu becomes a boisterous festival sight with various types of experiences, exhibitions and outdoor performances that everyone can enjoy.

AC/E supports the participation of Monsieur Croche with the spectacle "Els somnis del compositor Claude Debussy" and the Companyia del príncep Totilau.

"Els somnis del compositor Claude Debussy" is a puppet show for children based on Claude Debussy's piano music. Monsieur Croche tells the story of an imaginary dream where the composer Claude Debussy and his wife Emma Bardac travel to a fantasy island. There they will find a magic world inhabitated by sirens, exotic birds, big insects and other enchanted beings that will bring inspiration to Debussy to write new musical songs. Based on this experience, the couple then goes back to Belle Époque Paris, where Debussy publicizes his music throughout the world and throughout the years.

Artistic team
Actors: Jordi Hervàs, Clara Dalmau, Ares Piqué
Pianist: Olga Kobekina
Puppets, objects, and costume design: Martí Doy
Dressmaking: Carles Solé, Eugeni Caireta
Scenography: Marc Hervàs
Video: John Feeney
Technician: Gerard Custey
Artistic and Dramaturgic Direction: Marc Hervàs

La companyia del príncep Totilau gets its name from one of the characters of Alfred Jarry's play "Ubu roi". It is a theatre production company dedicated to producing public shows for families and children.
Comments (0)