Vórtice is a proposal by the artist Alicia Martínfor the headquarters of the Cervantes Institute in Frankfurt within the framework of Spain Guest of Honor at the Frankfurt Book Fair 2022. The work consists of a construction of a sculpture with books, whose support is the emblematic iron structure of the Institute's façade.
A Vortex is a turbulent, rotating spiral flow with closed current paths in which everything flows and nothing remains. The books, which serve as support for the dissemination of knowledge, are arranged in this work in a spiral fashion, referring to the continuous transformation of information, understanding the book as a living organism, subjected to an uninterrupted reformulation process.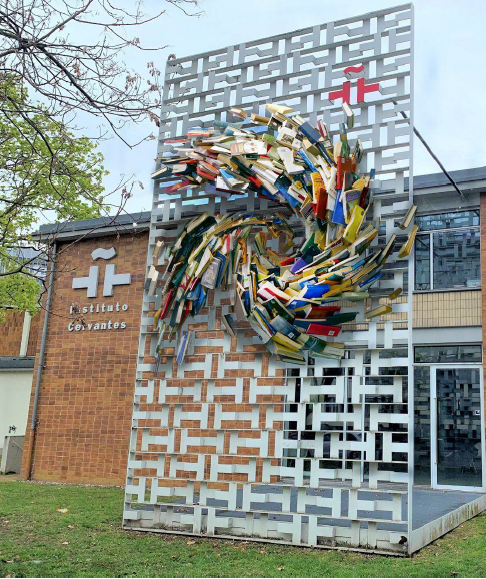 Since the beginning of the 90s, the artist Alicia Martín (Madrid, 1964) has been using old, used books with print defects and no sales as the raw material for her works to make beautiful sculptures that have been part of important exhibitions such as "Biografías" ( 2005), "Vortex" (2010), "Singularity" (2012), among others.